Nature in Ryde Cemetery – December 2008
It was a beautiful day, bright and sunny if a little chilly when Janette and I took our monthly Nature Walk in Ryde Cemetery.  Wandering around the cemetery was very pleasant and we noted subtle changes since our November Nature walk.
Most of the deciduous trees have now lost all their leaves, but some are beginning to show signs of buds and next year's growth.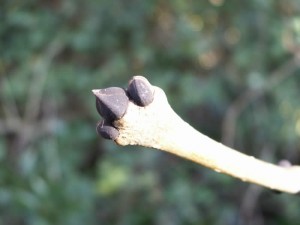 In places some of the leaves hang on and have turned red and yellow.  Primrose leaves are peeping up through the ground already and in a few places we actually found flowers.  Also a couple of Daisies were lifting their faces to the sun.
The birds were very busy searching for food, Blackbirds feeding from the berries and searching on the ground for grubs, etc.   We heard Blue-tits but only saw one, we also saw Magpies and Wood Pigeons.
(Note: later in the month a Starling was seen in the Cemetery).
We found one Toadstool, possibly a Buff Meadow Cap (Cuphophullus pratensis) and later we found more fungi growing from the base of a tree at the Pellhurst Road end of the cemetery, this was possibly Oyster Fungi (Pleurotus ostreatus).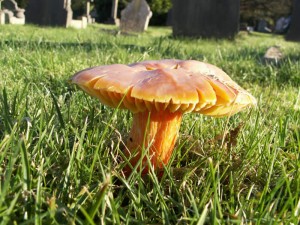 There were splashes of colour here and there – Cyclamens bright red and pink planted on graves in memory of loved ones; Christmas wreaths have been put on some graves and a solitary rose is still blooming in spite of the cold weather.  In the cemetery there are several variegated Holly trees looking very fine even though most of the berries have been taken by the birds now.
The ivy is also looking very attractive now that the flowers are finished and their berries are beginning to form.
Wishing you all a very Happy Christmas and a healthy New Year.
Maisie Kitching
6 December 2008
More nature photographs:
The list of plants and insects we find in the cemetery is ever increasing and if, when you visit the cemetery, you should notice anything that would be of interest, please let us know by making contact through the Contact Us page of the website.
Photographs contributed by Janette Gregson