Welcome to the Ryde Social Heritage Group Website
Ryde Social Heritage Group research the social history of the citizens of Ryde, Isle of Wight
RSHG was formed by a small group of friends in 2002 and became a formally constituted group in 2005. RSHG exists to research, document andshare information about the history of Ryde, Isle of Wight, UK, including the development of the town, the people, their lives and deaths, businesses and entertainments.
Since 2002 we have been recording information from Ryde Cemetery producing maps and recording inscriptions and we search through archives to find biographical information relating to the people buried there. We are also researching about the people, businesses, development and significant events that happened in Ryde.  We collect documents, information and artefacts relating to Ryde and have a growing archive which we make available to the public at Open Days and exhibitions.  We produce books and leaflets, hold exhibitions and give guided walks and presentations to help people understand the rich history and the significance of our town.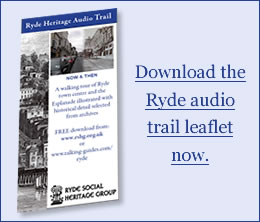 Next Event
Christmas Drop-in 2023
We would like to invite members, friends, and all who are able to spare a while to join us for a Christmas get together on Saturday 9 December 2023, from 10am till 2pm at the Ryde Cemetery Resource Centre.
Other items
Mr Charles Doland Crisp was appointed headmaster of Ryde Upper Grade School on 3 October 1892, at a salary of £200.
The new steam fire engine purchased by the Corporation was formally christened on Thursday afternoon 8th October 1908, the ceremony being followed by a short display in St. Thomas' Square which was watched with much interest by a large number of people.