Welcome to the Ryde Social Heritage Group Website
Ryde Social Heritage Group research the social history of the citizens of Ryde, Isle of Wight
RSHG was formed by a small group of friends in 2002 and became a formally constituted group in 2005. RSHG exists to research, document andshare information about the history of Ryde, Isle of Wight, UK, including the development of the town, the people, their lives and deaths, businesses and entertainments.
Since 2002 we have been recording information from Ryde Cemetery producing maps and recording inscriptions and we search through archives to find biographical information relating to the people buried there. We are also researching about the people, businesses, development and significant events that happened in Ryde.  We collect documents, information and artefacts relating to Ryde and have a growing archive which we make available to the public at Open Days and exhibitions.  We produce books and leaflets, hold exhibitions and give guided walks and presentations to help people understand the rich history and the significance of our town.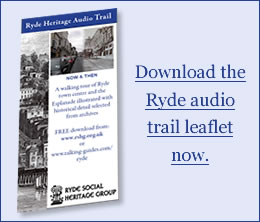 Next Event
RYDE HERITAGE AUDIO TRAIL
While waiting for our next event to be announced why not take a look at (and listen to) our Ryde Heritage Audio Trail?
Other items
The new H.Q. at Somerset Road were opened by the Mayor of Ryde, on Saturday 14th May 1949.
On Thursday 13th April 1905, the formal sending off of four of the 'buses of the I.W. Express Motor Syndicate on their several routes was performed by Lady Adela Cochrane.