The University of the Third Age
On Friday 5th May 2017 Ryde Social Heritage Group were invited by U3A to give them a presentation on the work and activities of RSHG and this took place at the Church Close Social Club in Wootton Bridge. The speakers for the Group were Kate MacDonell, Ann Barrett and Arthur Williams supported by Dave Bushell and Rob Cain.
The fully illustrated talk covered all aspects of our work from transcribing and mapping to our visits to other groups and facilities where we pass on our research information both visually and orally, as well as the various nature related events which we organise. The extent of the various Ryde Cemeteries in which the Group works was explained, as was the amount of information available in our archive at the Ryde Cemetery Learning Centre and on our continuously updated website.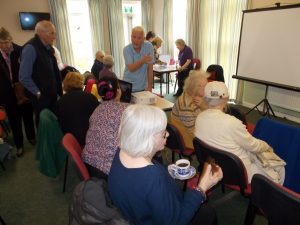 The talk was very well received by the U3A members and served as a reminder of the huge amount of work the Group actually undertakes.
Photographs by David Bushell