January Quarterly Meeting for Members, Friends & Guests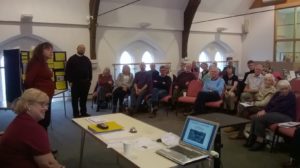 There was a full-house at the January Quarterly Meeting held at the George Street Centre on the 12th January 2019, which was attended by 32 members and 28 guests, a total of 60 persons present.  They were welcomed by Barbara Hunt, chairperson, who explained that we were trying a new format for the meeting to give people more time to socialise, and from later comments this appeared to have been very well received. Barbara then asked if there were any questions concerning the various reports that had been previously sent.  There were no questions.  Any other Business followed, when Ann made brief references to: a Font that needed identifying, an outing in the Spring to Quarr Abbey, and the speaker for the April Meeting.  Barbara drew attention to the forthcoming Big Garden Birdwatch in Ryde Cemetery to be held on 26 January.
There followed a break for the raffle and refreshments, and a chance to chat and look at the various documents available.
Members and guests were then treated to a very interesting and informative presentation by Linda Scurr and Simon Dear from the Isle of Wight County Record Office, when they gave us a detailed insight into "The History of Yelf's Hotel" in Union Street. Amongst other aspects, we learned about the man who drowned in a vat of beer, and the difficulties with finding Yelf's on the census, also the unusual comments on an earlier census.
We would like to take this opportunity of thanking Linda and Simon for sharing their knowledge and giving us a very enjoyable Saturday morning.
photographs by Rob Cain