Ryde Architecture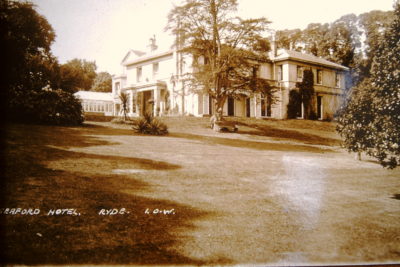 SEAFORD PRIVATE HOTEL
Mr Cecil Inman founded the Seaford Hotel, St. Thomas's street, circa 1927 on coming to Ryde.  Mr Inman who had a wife, one son and one daughter, died aged 71, on Friday 17 December 1948 after a short illness.
Advertisement – On the Brink of the Sea, From Bedroom to Beach, Sun and Sea Bathing
Standing in its own grounds of about two acres sloping to the shore and terminating in a wide terrace overlooking the sea, with private approach to sands for bathing and boating.
A few minutes from the Pier, Shops and all amusements, but entirely away from all traffic noise.
All bedrooms have hot and cold running water and box-spring mattresses, in fact the highest standard of Hotel comfort with excellent and liberal cuisine.
Lawn Tennis, Clock Golf, Garages, R.A.C. Appointment, Central Heating, Glorious views of Spithead.
Phone: Ryde 450
Images source: RSHG Archive Roy Brinton Collection