Child Frank William James Reed
Forenames:
Frank William James
Date of Birth:
01/01/1854
Date of Death:
14/12/1854
Map Reference Number:
RSHG 005 A3
Plot Number:
Ryde Old Parish Cemetery 5 No Plot Number
Grave Description:
GOTHIC TYPE HEADSTONE WITH FLOWERS CARVED AT THE TOP OF H/S
---
Grave Condition Description:
Headstone leaning forward quite a lot, lichen is growing
---
Other Information:
Added full name, death date and age on 20/11/2006, source: death and burial records.
---
Old Website Grave ID:
2640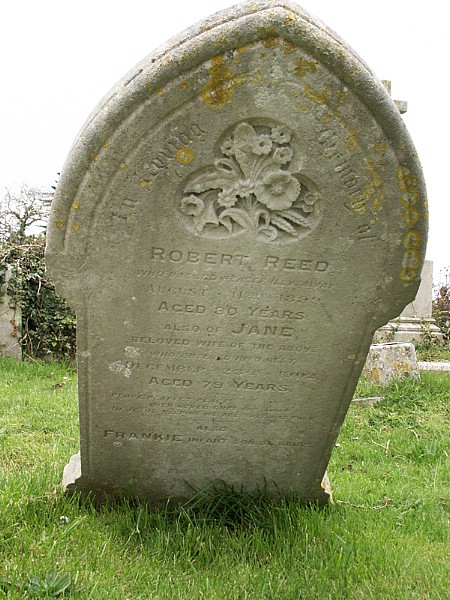 Inscription:
IN LOVING MEMORY OF
ROBERT REED
WHO PASSED PEACEFULLY AWAY
AUGUST 11th 1899
AGED 80 YEARS
ALSO OF JANE
BELOVED WIFE OF THE ABOVE
WHO ENTERED INTO REST
DEC 28th 1902
AGED 79 YEARS
"PEACE PERFECT PEACE"
WITH LOVED ONES FAR AWAY
IN JESUS KEEPING WE ARE SAFE AND THEY
ALSO FRANKIE
INFANT SON OF THE ABOVE
Photographs:
---
Related Documents:
---
Have you found this website useful?
This website is run by volunteers, so if you have found this website to be of any use whatsoever then please make a donation towards it's upkeep via our 'contact form'.
---